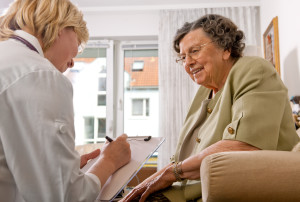 There are many living options for seniors who need special care. Two of the main types are traditional nursing homes and skilled nursing facilities. Skilled nursing facilities (SNFs) allow patients to recuperate from illness or surgery and receive medical treatment and other healthcare services. Traditional nursing homes provide great care for seniors but they are not as medically-oriented. This article will expand on the differences between skilled nursing facilities and nursing homes.
Benefits of a skilled nursing facility
• A professional nursing staff is available 24/7 to provide care and attention to all patients.
• In-hospital based skilled nursing facilities do not require the patient to be transported offsite for a procedure or test.
• Post-surgery and rehabilitation services include a variety of therapies and activities for patients which can speed recovery.
• Access to a wide variety of skilled physicians with diverse specialties which can foster improved outcomes for patients.
Differences in skilled nursing facilities and nursing homes
• Focus – Skilled nursing facilities are more focused on medical attention than traditional nursing homes. Patients are given one-on-one, attentive care that is tailored to their specific needs.
• Length – Seniors stay an average of 5 to 20 days in a skilled nursing facility. This is just for a temporary time while they are recovering from a procedure or medical condition that needs short-term rehabilitation. There is not typically a limit to how long seniors stay in a nursing home, as lengths of stays there are much more long-term.
• Physicians – Skilled nursing facilities have regular physicians who are responsible for each patient's plan of care and round on their patients frequently. The patients are monitored 24 hours a day, administered their medications and are checked on regularly. The staff at SNFs can include registered nurses, licensed practical nurses, speech-language pathologists, medical directors, audiologists, social workers, physical therapists and licensed vocational nurses. Traditional nursing homes commonly employ visiting doctors who have regular scheduled appointments to evaluate and treat patients.
• Regulations – Skilled nursing facilities are regulated by the state Department of Health. They have to meet more criteria compared to nursing homes which only offer basic medical care. To qualify, SNFs will normally need to offer more intensive nursing care as well as other medical services such as physical therapy or injections.
• Insurance/Medicare Coverage – Skilled nursing facilities are sometimes covered by Medicare or other insurance programs, for 100 days per illness depending on insurance specifics. Traditional nursing homes are generally not completely covered by Medicare or insurance and seniors may not receive any financial assistance.
• Services – Both nursing homes and skilled nursing facilities provide many services for seniors including housekeeping, helping them dress each day, assisting them with grooming and bathing, providing meal services and other general care. On top of these, skilled nursing facilities also provide extensive medical care, treatments, physical therapy and social interaction.
What to do if you or a loved one needs senior care
OakBend Medical Center is proud to be the only Hospital-based Skilled Nursing Facility in all of Fort Bend County. The dedicated and highly-trained staff at OakBend Medical Center is what makes the facility so successful. The goal is for patients to feel at-home. The seniors can get out of their rooms and head over to the dining room for meals or enjoy some time outside on the patio. Pets are also allowed to visit in a dedicated outdoor space. Patients are more comfortable at OakBend due to their quiet rounding. If the patients are asleep when it's time to check vitals the nurses will come back later instead of waking them.
After a surgery or a hospital stay, you have a choice as to where you want to heal before returning home so choose the best. To schedule a tour or for more information please call OakBend Medical Center at 281-341-3000.