OakBend Medical Center's Jack & Billie Wendt Acute Care for the Elderly (ACE) Unit is specially designed with the elderly in mind. The unit takes a multi-disciplinary approach involving a Geriatrician, Dietitian, Physical Therapists, Pharmacist, Case Manager, and NICHE trained Nurse Manager to provide a specialized care environment for the elderly that promotes a home-like feel, encourages family involvement and decreases length of stay.
Physical Environment
The physical environment is very different from most units, including non-glare wood-look flooring, modern furnishings, handrails, indirect lighting, and a warm, non-institutional color palette. With an open floor plan, the patients' families can interact with the patient during their physical therapy sessions, which are held in the open common area. A lower nurse's station allows for better communication and interaction between the clinical caregivers and the patients and their families. The communal dining room also enhances the patients' experience as they are able to eat with their families and other patients three times a day.
NICHE Certified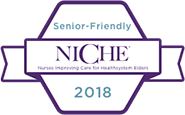 OakBend Medical Center is a NICHE (Nurses Improving Care for Healthsystem Elders) Designated Hospital. The NICHE program is designed to upgrade the quality of care for older adult patients by increasing awareness of geriatric issues, improving staff competence in nursing care of the elderly, and supporting the implementation of hospital geriatric protocols.
Patient Benefits
Patients in this unit will benefit from the specific protocols that enhance the recovery process for the elderly. Ambulation is a key component in this process. More specifically, patients experience multiple physical therapy sessions a day, including a group session in the common area. Meals are served in the communal dining area three times a day, allowing for patients to get out of bed and interact with others.
Resources
Hear From Patients
"I'm amazed with the courtesy of your nursing staff. They were so prompt each time I needed help. I was impressed with the fact that I ate my meals outside of my room in the ACE Unit dining area and could socialize with other patients." – Ray L
"Every time I come now, I ask about a room on the ACE Unit. The ACE Unit is like a family. They treat you good and it's like a big home here." –Clarence S
"Jacob is friendly, caring, professional, and always ready to help. He is thoughtful and has the same demeanor all of the time. Excellent for patient care." –ACE Patient
"Sheba is the best. She is always smiling and she treats me with so much love and caring person. She is always happy and that is something that brightens my day. She sits and talks with you. Makes you feel right at home. 3rd Floor as a lot of AWESOME nurses!" – ACE Patient
"Jennifer made my dad smile–the first time since he's been here. Exercise and getting up and moving is so important to him. Thanks for this ACE unit and getting folks moving!" – Family of ACE Patient
Location
OakBend Acute Care for the Elderly Unit
Jackson Street Hospital Campus
1705 Jackson Street, 3rd Floor
Richmond, TX 77469
Phone: 281-341-3000