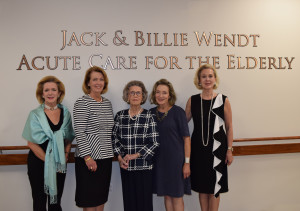 The Acute Care for the Elderly (ACE) Unit at the Jackson Street Campus of OakBend Medical Center filled with family and friends Wednesday night as the hospital unveiled the dedication of the ACE Unit in honor of Jack & Billie Wendt.
"We are here tonight to express our gratitude and appreciation to Billie Wendt and her late husband, Jack Wendt. Thirty years ago last month, Mrs. Wendt was the first woman to be elected to the hospital's board, leading the way for change," said Jeff Council, the current president of OakBend Medical Center's Board, "We are truly blessed to be here to honor this great family."
The program began with an opening prayer given by Pastor Jeff Gantz, Senior Pastor of St. John's United Methodist Church in Richmond followed by a few remarks from Joe Freudenberger, CEO of OakBend Medical Center and Mrs. Wendt's son-in-law, Jay Martin.
"Billie Wendt is a kind, gracious and genteel woman who is a pillar of our community," said Freudenberger, "Over the years, she has supported many organizations throughout Fort Bend County. She is truly a role-model and we are grateful that she has chosen to continue her support to OakBend Medical Center."
Mrs. Wendt, along with her four daughters, two son-in-laws and her niece and husband unveiled the new sign in the ACE Unit which marks the renaming to:
Jack & Billie Wendt
Acute Care for the Elderly
Once unveiled, guests mixed and mingled and had the opportunity to enjoy food and wine while congratulating Mrs. Wendt and her family.