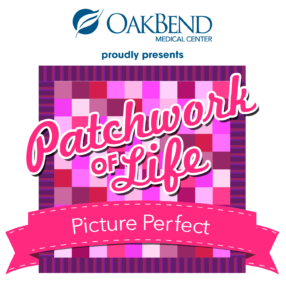 Thursday, October 10, 2019
6:00 – 9:30 pm
Safari Texas Ranch – Infinity Ballroom
11627 FM 1464, Richmond, TX 77407
The 2019 Patchwork of Life event will be held on Thursday, October 10, at Safari Texas Ranch in the Infinity Ballroom. Funds raised from the event will support 3D Mammography at OakBend's Women's Imaging Department.
As the only independent, nonprofit hospital in Fort Bend County, OakBend is committed to providing quality healthcare to the people it serves. Your support plays an important role in helping OakBend meet the needs of our community.
For more information about Patchwork of Life, please contact the Development Office at 281-341-3094 or e-mail development@obmc.org.
Sponsorship opportunities are now available.
• Golden Threads Sponsor: $10,000
• Community Fabric Sponsor: $5,000
• Patterns of Hope Sponsor: $3,000
• Stitches of Love Sponsor: $2,000
Tables and individual tickets can be purchased online (see button below) or by printing out the SPONSOR FORM and delivering to the Development Office.
Golden Threads Sponsors: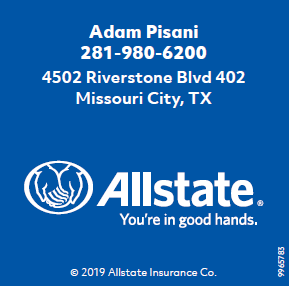 Community Fabric Sponsors:
Acclaim Strategic Power Specialists
Affiliates in Physical Therapy, Inc.
BBVA Compass
Consolidated Home Health
Kay Danziger
Medline Industries, Inc.
Petrosewicz Law Firm/May W. Tape, DDS
Safari Texas Ranch
SavaSeniorCare Administrative Services, LLC
Sunrise Healthcare Management Company, LLC
Patterns of Hope Sponsors:
Susan and Clark Carruth / Schell and Jeff Hammel
Dr. Paolo Champion / Dr. Ivan and Ruthanne Mefford
Clinical Pathology Laboratories
Cornerstone Hospital Bellaire
Delk Construction
FMR, Inc.
Loretta and Keith Flynn / Marilyn Phillips and Clay Berry
Laura and Joseph Freudenberger
Hunters Biomedical
Kindred Hospital Sugar Land
Sue and Tim McCarty
MHC Data Comm, Inc
OakBend Medical Group
Premier Performance Physical Therapy
Rose-Rich EM Physicians, PA
US Imaging, Inc.
West Houston Radiology RP Gulf Coast
Dr. Georgio and Michelle Ziakas
Stitches of Love Sponsors:
Acadiana Computer Systems
Alliant Insurance Service
Another Time Soda Fountain & Café
BKD, LLP
Briggs & Veselka Co.
Brown & Associates Medical Labs
Capital One, NA
Chapel Roofing / Expert Collision
City of Richmond
Classic Chevrolet / Veranda, A Johnson Development
Cryer Plastering Company
John and Tama Dorman
Virginia and Bob Douds
Encompass Health Rehabilitation Hospital of Sugar Land
Fort Bend Herald
Friends of AccessHealth
Garcia-Martin & Martin, PC
Getix Health
Gurecky Manufacturing Services, Inc.
HCA Gulf Coast Division
HCA Houston Healthcare West
Pat and Bob Hebert
ImageNet / McDonald & Wessendorff Insurance
Billie Jones / Wharton Journal-Spectator
Abby King
Moerer & King, LLP
Moody National Bank
Mayor Evalyn Moore
NRG – WA Parish Plant
PHI Air Medical, LLC
Serpe, Jones, Andrews, Callender & Bell, PLLC
Si Environmental, LLC
Sugar Land Rotary Club
Trustmark National Bank
University of Houston
Wharton County Junior College
Wharton Rotary Club
State Representative John Zerwas, MD
Official Magazine Sponsor:                                     Printing Sponsor:
absolutely! focus media                                             Pamela Printing

EVENT CHAIR                                                              AUCTION CHAIR
Beth Johnson                                                               Kay Garrett
COMMITTEE MEMBERS
Ray Aguilar
Michaela Carriere
Patti Cryer
Kellen Dorman
Linda Drummond
Benecia Flores
Maureen Greig
Jeff Haley
Pat Hebert
Tara Johnson
Amanda Lopez
Freddy Lopez
Alicen Swift
Anna Webster
Robert Wolter